A hospital team is saving sight and reducing wait times by training staff to undertake procedures previously reserved for doctors.
The retina medical team from the Department of Ophthalmology at Singleton Hospital have scored a second Welsh first in the space of a year.
Suzanne Martin has become the first orthoptist in Wales to train to inject a sight-saving steroid implant directly into a patient's eye.
The steroid, Ozurdex, is used to treat diabetic macular edema and retinal vein occlusion, two potentially sight-threatening conditions.












Last year Melvin Cua from Singleton became the first non-medical practitioner (a clinician who is not a doctor) in Wales to inject it.
Suzanne (right) with nurse Melanie Jones and patient Peter Dover-Wade.
The use of non-medical practitioners frees up doctors to carry out other work, which is vitally important when eye services in Wales are under enormous pressure.
The fact that injections can now be given in clean rooms in Singleton, instead of more traditional operating theatres, also provides greater capacity for more eye surgeries.
Orthoptics, a separate profession from ophthalmology and optometry, diagnoses and treats eye movement disorders such as strabismus.
Unlike nurses, orthoptists don't traditionally give injections, so it's a whole new experience for Suzanne.
Along with two colleagues, she first trained to administer anti-VEGF injections to treat age-related macular degeneration.
"They're easier to give, so those are the ones we practiced on to start with," said Susan (pictured at top of page), head of orthoptic services at Swansea Bay.
"Ozurdex is technically more difficult, but now I've trained to give it away – the first orthoptist in Wales to do so.
"Getting injections took me out of my comfort zone at first because it was something I had never done before."
Suzanne and her colleagues also learned essential new techniques for working in sterile areas, from cleaning to infection control.
Then she will train another orthoptist to do injections. It's a part of her job that she says she really enjoys.
"It's quite exciting coaching someone else, but also nerve-wracking. But you feed them and when they become skilled, it's a really nice feeling.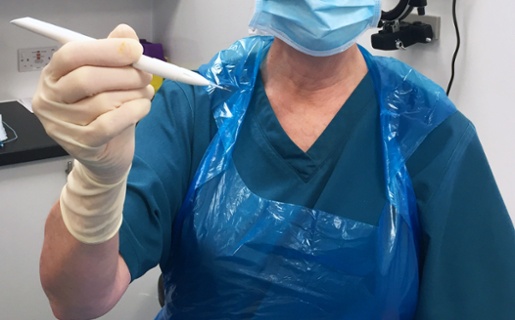 "It's also good for the department and it helps with recruiting.
"We've had people come in for interviews who say they've heard of our department because we're so progressive with our expanded roles.
"They want to work for us because we have a very good reputation, which is great."
One of Suzanne's first patients is Peter Dover-Wade, 91, from Swansea, who has been receiving injections for two years.
Mr Dover-Wade, who had previously only had the injections from the doctors, described Suzanne's work as "perfect".
The retinal medical department deals with ailments of the back of the eye, which are treated medically with the help of drugs, eye drops or lasers. It includes diabetic eye screening.
The development of non-medical practitioners to administer injections is due to an investment in the service by clinical ophthalmology service manager Cheryl Madeira-Cole.
She says: "It is very gratifying to be part of such an innovative and forward-thinking ophthalmology team.
"I am grateful to have the full support of our fellow consultant ophthalmologists who share the vision of developing our non-medical practitioners into expanded advanced practice roles.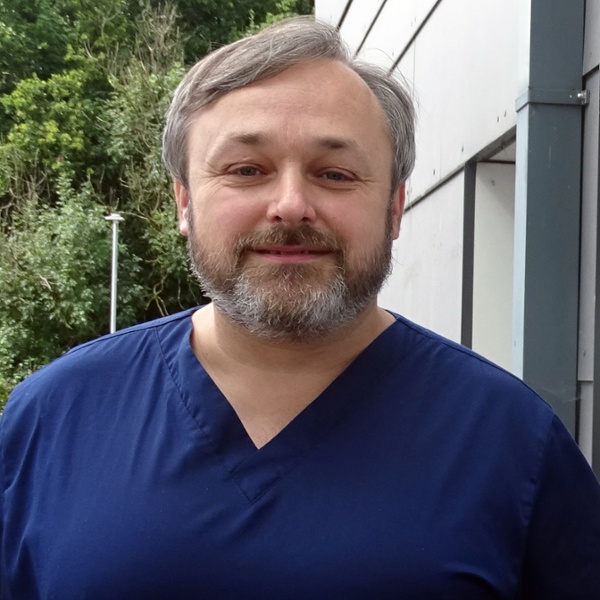 "I am proud to be able to offer such attractive and rewarding career opportunities to our ophthalmic technicians, nurses, orthoptists and optometrists.
Consultant Ophthalmologist Gwyn Williams (to the right) said increasing the number of non-physicians performing this important injection increases capacity and saves the sight of more patients.
"We have a weekly clinic with about six or seven patients attending each week. Thus, over a year, this represents a considerable time saving for doctors.
"We are now also able to perform the injections in specially adapted clean rooms rather than in operating theatres.
"It means there are more operating slots in theaters and more doctors available to do the work that only doctors can do.
"Obviously that means the non-medical practitioners doing it instead aren't doing the things they were originally employed to do. But we got around that by employing more of them.
"With Cheryl's support, we are building a department in Swansea that is more innovative than any of its kind in Wales."
His colleague Mahmoud Awad, a medical retina specialist, added: "Our retina medical team maintains its progressive and pioneering position.
"We are always keen to improve the efficiency of the service and the training of our staff. What a wonderful place.