Kim Barnard quickly made an appointment with her ophthalmologist.
Her daughter told her that if she wanted to come in and see Dr. Scott Richardson before he retired, she had better make an appointment.
"I said, 'What do you mean by his retirement?' recalls Barnard.
"So I made an appointment and walked in there because I wanted to see him one more time and wish him well. He's just a great guy. He was always professional, always informative, always caring, compassionate.
Barnard, his mother, Mary Sailer, and daughter, Hannah Scheuring, entrusted their eye care for decades to Scott Richardson or his father, the late Dr. HK Richardson, who practiced together for years at Carroll Eye Care Associates on North Main St. at Carroll.
After slowly drifting away from his practice, Scott retired this spring.
The Richardsons – Scott and HK – leave a legacy of over 60 years in eye care. HK began his career in Indianola, moved to Albuquerque and Houston, then practiced here from 1959 to 1989. Scott joined the office in 1975. Carroll Eye Care Associates evolved over the years, with the arrival of Dr. William McIntosh in 1989 and Dr. Thomas Parrish in 2015.
With the many years of care he and his father have provided, Scott told the Times Herald, "Probably the most rewarding part of the practice is the relationships you have with patients and their families. So that's what I'll miss the most.
He continued, "I have patients who started with him (HK) and saw their children and grandchildren. I've had patients who never saw anyone but me and my dad. It's a cool thing.
Barnard, who lives in Manning, said: "I'm 61. I started with HK Richardson, probably when I was 13 or 14, then when Dr. Scott Richardson started, I started going to him. I have never consulted different ophthalmologists. My mother (Sailer, of Manning) has also been to all of them. It started with HK when we lived in Carroll. My daughter (Schering, from rural Westside) has seen Dr (Scott) Richardson since she was in college, and she is now 31 years old.
Barnard, who is a registered nurse at St. Anthony's Regional Hospital, planned to continue her eye care at Carroll Eye Care Associates, moving to Dr. Parrish.
She said: "I probably saw Becky Dillehay (the clinic's director of operations for 44 years) at every appointment I attended. I love him too. She is very friendly, optimistic.
Dillehay is also a Certified Paraoptometric Technician and has been involved in patient care as well as office and optical department management.
Having had the opportunity to work with Scott and HK, Dillehay said, "They are two great people. Their personalities were different in some ways, but when it came to patient care, they were very similar. The care they provided to their patients was exceptional.
Dillehay described HK as very direct with patients.
"We used to always say, you never had to wonder what he was thinking, because he was going to tell you," she said, "while Dr. Scott is kind of more relaxed.
"But they were just two very nice and caring people, and they developed the practice."
The Richardsons have always supported her by taking advantage of educational opportunities and advancing her career, Dillehay said.
"I appreciated how they always gave me the opportunity to learn," she said, adding that they were great teachers themselves as she learned by helping them.
Practicing optometry with his father was not Scott's vision when he graduated from Carroll High School in 1968. The son of Dr. HK and Ellen Richardson, he began studying mechanical engineering at Iowa State University.
"I had the idea that I had to go out on my own and do something different," he said. "But after a few years, I decided it wasn't a good choice. I really didn't have a good career orientation.
So he turned to preoptometry.
"I was already interested in all the things in terms of health sciences that work well in optometry," he said. "Fortunately, I made the right decision and changed."
In the state of Iowa, he met his future wife, Kathy Brown, who graduated from Ames High School in 1969.
They married in 1971 and later moved to Memphis, where Scott attended the Southern School of Optometry, and Kathy attended the University of Tennessee School of Nursing. After graduating, in 1975 they came to Carroll, as Kathy had nursing opportunities and Scott was invited to join his father's clinic.
"I felt more comfortable going back and joining him," Scott said. "Fortunately, I made the right choice."
HK purchased Dr. Rex Hinson's practice in 1959 when the clinic, prior to Urban Renewal, was located on the current site of the Carroll 5 Theater on Fifth and Main streets. The clinic moved to its current location and initially shared this site with Greteman Agency Insurance and Real Estate as well as the law firms of Ron Schechtman and Russ Wunschel. Carroll Eye Associates is now the sole occupant and has expanded the building to add Drs. The practices of McIntosh and Parrish.
Scott said of practicing with his father: "Professionally he was a great role model for me, teaching me the importance of treating our patients well and providing the highest quality of care possible. He had a unique way with patients and an outgoing personality that I couldn't match, but I learned the importance of patient rapport and quality care.
"In the later years of his practice, as optometry evolved with the expansion of roles and services we could provide, he did not always participate in new procedures, but encouraged me to do so and was always willing to invest in the necessary new equipment."
Indeed, Scott said, optometry has changed dramatically from the days of checking vision and helping to select and fit eyeglasses. Today, legislation allows optometrists to do comprehensive eye health assessments and can treat a range of conditions, diseases, and other issues.
Richardson said: "We are able to do dilation and we have equipment to look at the fundus and assess it. We are much more involved in the medical part with the vision. … We can detect things like macular degeneration and things like that.
Optometrists can now treat conditions with procedures and medications.
As the years passed in his practice and his patients got older, Richardson said, "You see more medical stuff going on. It's interesting because of the medical issues you're dealing with. And catching things early and helping prevent problems is always a good thing.
"Probably the most rewarding part of the practice is the relationships you have with patients and their families."
He added: "It's really rewarding to work with the staff and the new doctors we have. I have been very lucky.
Richardson said retirement would give him time to "catch up on all the things at home that I haven't done." He is also looking forward to more time biking and spending time at the family home on Black Hawk Lake in Lake View, where over the years he has enjoyed boating and skiing.
Richardson said: "As I was growing up Dad encouraged participation in all sports and coached me at home and for many years in baseball. He taught me to ski at a young age, and he skied well into his 60s, so we shared that after I joined him in training. He was also a very avid pheasant hunter, so I spent a lot of time doing that as a kid after I joined him in training. We got to know the gravel roads of the area very well and he was good at finding good spots to hunt among his farming patients. He was by far the best shooter throughout.
"He was also a good handyman and carpenter, which he tried to pass on to me. We had many repair and renovation projects while I was growing up and several office renovations after I joined. He never saw a wall he didn't think he could move.
He continued, "Mom and dad were very supportive of our family and we often spent time together for family gatherings. They closely followed the activities of our children. Dad had a very outgoing personality and would probably be considered a bit of a "character". I'm sure my boys remember an event or two when they did something remarkable and his voice rose above the crowd with a "Holy Cockeye", one of the favorite expressions .
Scott's wife, Kathy, retired from her nursing career in 2017. During her career, she was a public health nurse in Memphis while earning her RN degree; a labor and delivery nurse at St. Anthony Regional Hospital; child health director for New Opportunities; Pediatric Nurse Practitioner and Director of Child Health Specialty Clinics for the University of Iowa; and earned her master's degree as a psychiatric nurse practitioner and worked at St. Anthony and Plains Area Mental Health.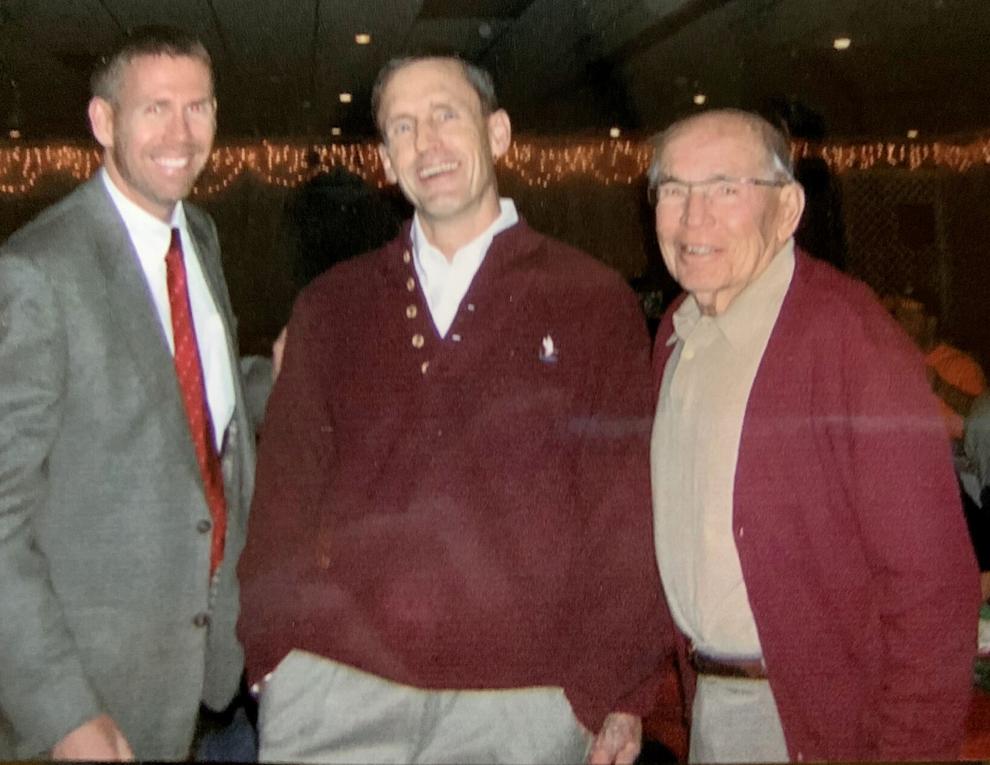 Scott and Kathy have two sons, Jeff and Michael. Jeff, 35, a graduate of Carroll High in 2006 and Iowa State in 2009, lives in Aurora, Illinois, and is co-owner of Acceleration Sports Performance. His wife, Geneviève, is responsible for procurement for US Gypsum. Michael, 42, a 1998 Carroll High and 2004 Iowa State graduate, is a courier for St. Anthony's Regional Hospital and was previously a night supervisor at the Ames Youth Shelter.
The Richardsons lost their daughter, Erin, in 2004, a day before her 15th birthday. Born with a heart defect, she had received a transplant, but her body was beginning to reject that heart and it was failing. She was awaiting another transplant at the University of Iowa Hospital when she died. Since 2005, the family has presented a memorial scholarship in her name to Carroll High School.
Scott's father, HK, died in 2004, and his mother, Ellen, in 2013, and both were active in the community.
For his part, Scott has been a member of the Lions Club, served on the Carroll Planning and Zoning Commission, coached youth sports and, with Paul Milligan, started the youth football program at Carroll.